Site Preparation
If you are having a liquid screed floor installed, the sub-floor area and any underfloor heating components need careful preparation. We advise that guidelines are carefully followed in order to achieve the best finished results.
Prior to the flowing screed being applied the building should be as weather tight as possible, with at least the roof in place and all missing glazing or door openings should be temporarily sealed using polythene, insulation or ply.
Where the flowing screed is to be applied floating over insulation, the boards should be installed flat to substrate and be free from excessive movement/rocking. The perimeter strip should be installed to all walls and uprights within the screed. The strip should be installed without over stretching and should be pushed fully into all corners.
The insulation should then be overlaid using minimum 500 gauge polythene overlapped by 100mm and taped. The polythene should be laid flat with minimal ridges.
Underfloor heating pipes should be installed to manufacturer's spacing's and guidelines, as a minimum the pipe should be secured using either a clip rail or staple every 400mm. The pipe should be well secured to prevent floating during the application of the flowing screed.
It is essential that the pipe work be pressure tested (preferably with water) prior to installation of screed, this is to ensure there are no leaks.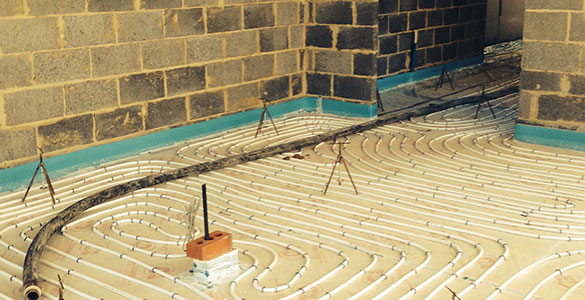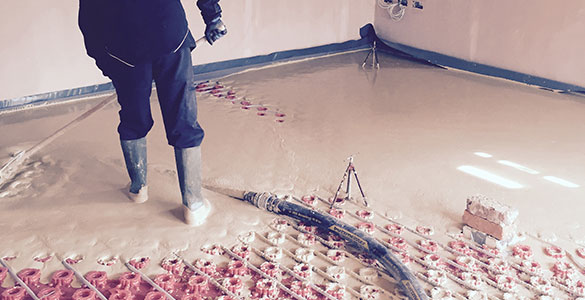 Finished preparation should be completely water tight to prevent leaking, polythene and other materials should be grease free and sitting flat to the insulation boards and all pipes and conduits running in the screed must be fully secured.
It is important to know that there is a chemical reaction if the gypsum based screed comes into contact with the aluminium backing on most insulation panels, Hydrogen is created which would cause air bubbles to appear on the surface of your screed. NEVER use aluminium tape to seal the joints in your membrane.
Where the floor ratio is greater than 1:6, in doorways for example, expansion joints are required – these need to sit snugly over the pipes, and must allow screed to flow evenly to each side. Fit control joints where needed.
Further advice and information
For more details and technical information on any aspect of sub-floor preparation get in touch with us directly. We work hard to give you the best screed floors and are happy to help you achieve optimum results. For information on wider site preparation, check the Before We Arrive page, remember We can provide a free quote for supply and pouring in Oxford, Newbury, Reading, Northampton, Milton Keynes, or any of their surrounding areas.